---
FREE & FAST Delivery
Easy Extended 30 Day Returns
FREE & FAST Delivery
Description
Stretch Like Never Before!
This Yoga Belt Leg Stretcher gives you a simple but effective way to improve your range of motion and overall flexibility. Practice body positions on both legs ranging from heel stretches, scorpions, bow and arrows and MORE in the safety and comfort of your own home! 
It is made of sturdy nylon strap fits over any door in your home or hotel room. Lightweight straps make for easy transporting to yoga or ballet class.
This easy-to-use leg stretcher to improve your leg flexibility, balance and range of motion in a natural body position.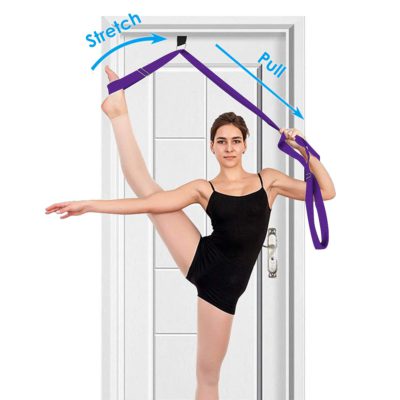 MOVE EFFORTLESSLY – Flexibility equipment that's ready to use in a few seconds: put the door anchor over any sturdy doorpost, close the door and pull the strap through the D-ring and you're ready to take your poses to the next level. Like a portable stretch machine!
SUPERIOR DESIGN – This leg stretching equipment will not scratch or damage your door and won't move or slide while you're stretching your legs.
 
Material: Polyester
Color: Black, Pink, Blue, Purple, Red
Length: Rings length 25cm/9.84in, Training belt length 3m/9.84ft, Width 3.8cm/1.5in, Thickness 2mm/0.08in
Product weight: 220g
Packing size: 16x14x6cm/6.3×5.51×2.36in
Package Includes: 1 X Leg Stretcher Strap, 1 X Storage Bag